Gio's Nutellarium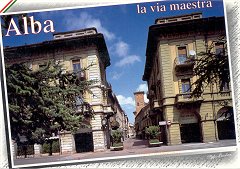 "This is Alba, where our Nutella was born!-LOL!
Here she moved her first steps
Went to school
Dated hot guys and so on....."
Gio

BONBON CHESTNUTS
Ingredients:

6 spoons of chestnut jam
2 spoons of Nutella
bitter powdered cocoa
icing sugar

Mix the jam and the Nutella (they must be very cold) with 4 spoons of cocoa.
Shape small balls with a small spoon of compound at a time. Shape then every ball like a chestnut.
Roll them in other cocoa until they are totally covered. Heat a few of Nutella and pour the bases of the "chestnuts" in it. Dip then the same bases in icing sugar so they become white.

If you have a Nutella recipe that you would like to see here,
please contact Gio at gio@gvcommunity.zzn.com


Main Nutellarium Page

Previous Recipe:
Chestnut, Apple & Nutella Cake