Gio's Nutellarium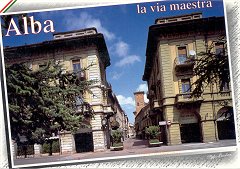 "This is Alba, where our Nutella was born!-LOL!
Here she moved her first steps
Went to school
Dated hot guys and so on....."
Gio

NUTELLA SWEETY
Ingredients:

10 oz (250g) Nutella
2 cups of whole rice
1 cup of dried chestnuts
3 cups of apple juice
the rind of 1 orange and of 1 lemon
cinnamon
a vanilla stick
1 cup minced coconut
4 or 5 cups of milk
4 oz (100g) of raisins
2 oz (50 g) minced hazelnuts

Mince in big pieces the chestnuts and toast them. Cook in a pressure cooker the rice with the toasted chestnuts, 3 cups of water, the apple juice, and a pinch of salt, for 35 minutes. Then go on cooking for 20 minutes with a handful of raisins, a little of cinnamon, the vanilla, 4 or 5 spoons of Nutella and the orange rind. Add the milk and when it's soft, add the lemon rind. Pour in a bowl, cover with minced coconut and hazelnuts, and decorate with tufts of Nutella. Serve at ambient temperature.
If you have a Nutella recipe that you would like to see here,
please contact Gio at gio@gvcommunity.zzn.com


Main Nutellarium Page

Next Recipe:
Chestnut, Apple & Nutella Cake

Previous Recipe:
Nutella MilkShake