THE GLOBAL VILLAGE
CROATIA
GIO'S TRAVELOGUE
Click on the pics for the larger version
---
DALMATIAN COAST by Gio - who needed to go to see if Croatians have Nutella: I couldn't sleep anymore at night if I didn't know this! :P

-------------------------------------

The following journal shows how it's possible to make a trip with two kids, and not only survive it, but even enjoy it...

We're a family of 4: my hubby, I, and our little girls aged 7 and 2. We live in Northern Italy, so a trip to Croatia isn't such a big problem for us. Actually, Dalmatian Coast is one of Italian people's favorite holiday destinations.
We went there with our car, taking a ferry from Ancona to Zadar. And we rented 3 apartments in 3 different places to use as bases for our excursions. Apartments are less expensive than hotel rooms, especially if you're a family of 4!

STAGE I : KRKA NATIONAL PARK AND SIBENIK

The first apartment is in Zablace, near Sibenik. Zablace is a nice surprise: a tiny, old fashioned village. Our apartment is by the seaside, with a huge terrace and a wonderful view on Zlarin island and an amazing sunset.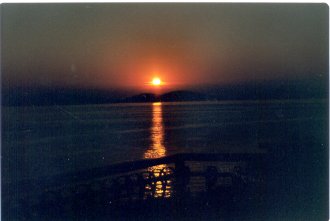 Sunset seen by our terrace, Zablace



Our first trip is to Krka. We reach the village of Skradin by car and then we take a boat to the falls.



Skradinski Buk



Skradinski Buk is a marvel of Nature. Large waterfalls, that incredibly remind Mexico's famous Agua Azul waterfalls end in a quiet river where people love to swim. My daughter, who is a little fish, and I can't stop plunging in the river. She especially enjoys swimming under a small waterfall on the side of the river, that comes down from amongst the trees. We climb to the branches and then we plunge in the fresh water. Surely we don't plunge like the guys in the photo below!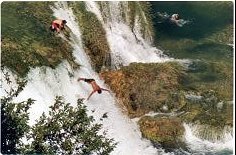 After a while, I make Giorgia stop and I tell her to look around with attention. She is clinging to a branch like a monkey and watches the powerful waterfalls. So I ask her: Do you like it better THIS or Aquatica? (She is a fanatic of those aquatic parks with slides, false waterfalls, amenities....)
And after a minute of brooding, her answer: Here.
I really wanted her to answer this. I'm happy!
The day after, we go strolling in the old town of Sibenik. My first impression, when we arrived, wasn't very good: huge buildings ruined the landscape and the town seemed hot and crowded. But during this visit to the center, I discover that it's a a pleasant, quiet town with a spectacular old center and that it's not too much crowded with tourists. People seem relaxed and happy. Now I really understand why Goran misses his town so much!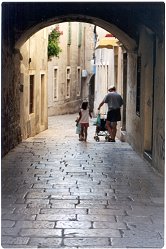 A walk in Sibenik



STAGE II -PELJESAC PENINSULA

When we leave Zablace, our new goal is Orebic, in the less known Peljesac Peninsula. We are all lively and happily driving near Split when we realize that the sky - until that time always deep blue- is becoming grey. Is a storm arriving? Not at all. It's easy to realize that a huge fire after the town is obscurating the air with its smoke. Cars are beginning to slow down and to form lines. We aren't sure of what's up and we have to quickly decide. To go ahead or to try passing by the inland road?
We check our map, then we decide: so we turn our car back and reach the road that heads to Bosnia. And we won't regret it. The road is longer and narrow, but the views are wonderful, and when we finally get back to the seashore near Makarska, we discover that the Police had blocked the road to Split. Hundreds of cars are waiting in line.
Days later, while coming back to Split, we discover that the fire arrived nearby the sea. A huge part of the country is totally burned.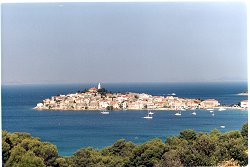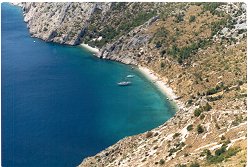 On the road: Primosten Beach near Makarska



We'll stay in Orebic one whole week to relax and allow the kids to enjoy its beaches.
During this week, we discover that Peljesac has breathtaking views.....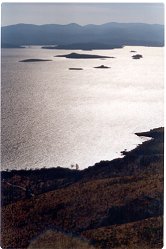 amazing Caribbean-style beaches......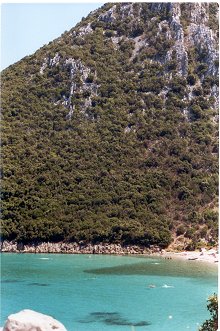 charming small villages........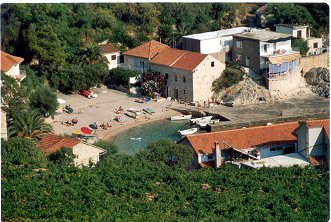 During our stay, we visit two islands: Korcula and Mljet.
Korcula, just 20 minutes of ferry from Orebic, has a very nice old town surrounded by walls, like Dubrovnik. We visit the whole island, from Korcula town to Vela Luka on the opposite side, then I can't resist entering an Internet Cafe to read what some weird people are writing in a certain forum....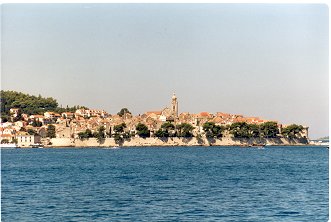 Korcula and its walls



Mljet, that legend wants to be Ogygia, the island in which Odysseus lived for 7 years with the nymph Calypso, is the place I loved better in Croatia.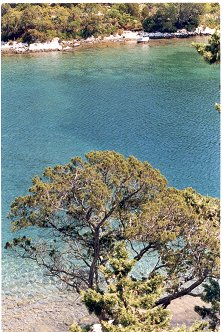 Veliko Jezero, Mljet



Its two lakes surrounded by woods sparkle amongst the deep green. Walks in the woods allow people to discover its beauty by walking or by biking. A small island is in the middle of the bigger lake: an island in the island! It's possible to reach it by boat, by canoe, kayak or even swimming.
We decide to rent bikes and make a tour around the lakes. But we have to give up: Carolina is scared by bikes, and screams like an eagle when we try to put her in a baby seat on the bike. So, my hubby and Giorgia rent a canoe and have fun in the lakes while I wait pouting with Carolina! Later, Giorgia and I swim in the canal that connects the two lakes. The stream is very strong and people have fun by being dragged from one lake to the other.
Once more my little fish can't stop having fun and realizes again that Nature is better than aquatic parks.

STAGE III : DUBROVNIK

When we arrive to Dubrovnik, we have again a nice surprise: our apartment is big, hanging on a cliff directly by the sea, in a pedestrian precinct. The only trouble is carrying our baggage until there, but it's sure worth it!
And we soon discover a curious thing (oh, I know that it seems incredible!) : the apartment is property of a Croatian doctor and it has been bombed in 1991....a part of the wall above a window is still missing and a small piece of it is, as an ornament, in the living room -it seems a warning- with a date written on it: Oct. 25, 1991.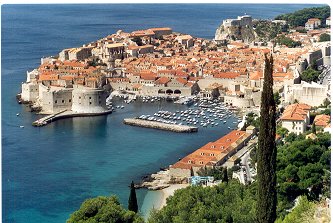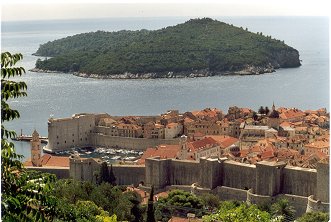 Dubrovnik is full of tourist, the most crowded place that I visited in Croatia. I'm not going to describe it. Ivana did it so well!
The first time we visit the old town, during daytime, the weather is so hot that we decide not to have a walk on the walls. We just walk in the Stradun and in the wonderful old streets around. Actually, I think that walking around is one of the best ways to get to really love a place. Then, we decide to rise to Lovrijenac fortress, where "Hamlet" is performed during the Dubrovnik Festival. The view is spectacular, and I can't avoid thinking how nice must be watching a theatre performance on that terrace. It must be amazing.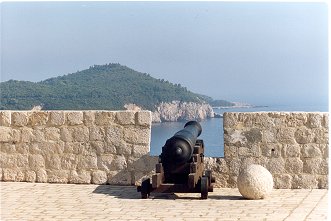 View from the terrace, Lovrijenac



The old town in the night is even nicer. Some tourists shoot Carolina with their camera. Maybe they think that she's a Croatian attraction? *L*
We have then a funny cruise to Elaphites islands with an old boat. The girls turn out to be true old salts...and when Giorgia sees dolphins swimming and jumping around the boat, she DEFINITELY decides than Nature is better than Aquaparks!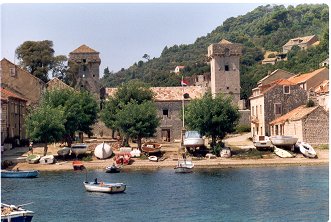 Lopud, Elaphites islands



We arrive until the border with Crna Gora, and we see more lovely villages and beaches, but now our vacation is ending.

Hope to come back soon, Croatia!