NOTABLE LADIES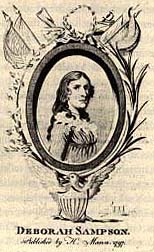 DEBORAH SAMSON
In October of 1778 Deborah Samson of Plymouth Massachusetts disguised herself as a young man and presented herself to the American army as a willing volunteer to oppose the common enemy. She enlisted for the whole term of the war as Robert Shirtliffe and served in the company of Captain Nathan Thayer of Medway, Massachusetts.
For three years she served in various duties and was wounded twice - the first time by a sword cut on the side of the head and four months later she was shot through the shoulder. Her sexual identity went undetected until she came down with a brain fever, then prevalent among the soldiers. The attending physician, Dr. Binney, of Philadelphia, discovered her charade, but said nothing. Instead he had her taken to his own home where she would receive better care. When her health was restored the doctor met with Robert's commanding officer and subsequently an order was issued for Robert Shirtliffe to carry a letter to General Washington. (This may also be "legend" as there is no record of her ever being in Philadelphia.)
When the order came for her to deliver a letter into the hands of the Commander-in-chief, she knew that her deception was over. She presented herself at the headquarters of Washington, trembling with dread and uncertainty. General Washington, to spare her embarrassment, said nothing. Instead he sent her with an aide to have some refreshments, then summoned her back. In silence Washington handed Deborah Samson a discharge from the service, a note with some words of advice, and a sum of money sufficient to bear her expenses home.
After the war Deborah Samson married Benjamin Gannett of Sharon and they had three children. During George Washington's presidency she received a letter inviting Robert Shirtliffe, or rather Mrs. Gannett, to visit Washington. During her stay at the capital a bill was passed granting her a pension, in addition to certain lands, which she was to receive as an acknowledgment for her services to the country in a military capacity as a Revolutionary Soldier, in part thanks to the efforts of Paul Revere.